Only 1 in 6 Canadians use Ad Blocking Software
IAB Canada released a comprehensive study powered by comScore data that explores the Canadian consumer frequency of ad blocking usage as well as consumer attitudes towards ads and the technology that allows them to skip ads.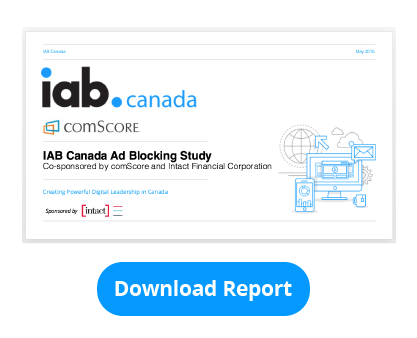 The study showed that despite high awareness, only one-in-six (17%) of online Canadians have ad blocking software/apps installed on their desktop device(s). This group is generating 18% of total desktop PC publisher Page Views that are blocked in some way from presenting ads to consumers. The trend is stable based on 8 months of passive measurement data with users ranging from 11% in Atlantic Canada to as high as 19% in BC. English and French Canadians surveyed have similar usage rates (English 16% and French 17%). Not surprisingly, the highest usage is seen amongst millennial males 28% of whom are ad blocking users.
Few Canadians (6%) have installed ad blocking software/apps on their mobile devices.
Interestingly, the study revealed that 13% of Canadians that had installed ad blocking software/apps at one point have actually disabled or deleted it from their system. The biggest motivators cited for uninstalling/no longer using ad blocking were the fact that the ad blockers didn't work properly and that they interfered with site functionality. This underscores the appropriateness of the publisher community's efforts to detect ad blocking software and suspend content delivery until the publisher site is either whitelisted or the ad blocker is removed.
Finally, Canadians overwhelmingly are agreeable to being exposed to advertising in exchange for high quality content with over three-quarters (78%) of online Canadians preferring free, ad-supported online content versus pay-for-content options. That's why Canadians need to appreciate that ad blocking endangers publishers' main source of revenue.
When asked which ads are best tolerated, consumers overall, showed a preference to less intrusive ad formats with skippable video ads and behaviorally-targeted ads getting the highest scores.
In summary, the study clearly indicates that publishers have some control over protecting their revenue streams from ads. Continued industry-wide impetus towards implementing the IAB principles of LEAN ads to respect the consumer online experience and the DEAL approach to creating an honest, ethical and fair conversation with consumers about ad blocking, will make a meaningful long term impact.
About IAB Canada
The Interactive Advertising Bureau of Canada (IAB Canada) is the national voice and thought leader of the Canadian interactive marketing and advertising industry. We are the only trade association exclusively dedicated to the development and promotion of the digital marketing and advertising sector in Canada.
As a not-for-profit association, IAB Canada represents over 250 of Canada's most well-known and respected advertisers, ad agencies, media companies, service providers, educational institutions and government associations. Our members represent a diverse range of stakeholders in the rapidly growing Canadian digital marketing and advertising sector, and include numerous small and medium sized enterprises.
About comScore
comScore, Inc. (NASDAQ: SCOR) is a leading cross-platform measurement company that precisely measures audiences, brands and consumer behavior everywhere. comScore completed its merger with Rentrak Corporation in January 2016, to create the new model for a dynamic, cross-platform world. Built on precision and innovation, our unmatched data footprint combines proprietary digital, TV and movie intelligence with vast demographic details to quantify consumers' multiscreen behavior at massive scale. This approach helps media companies monetize their complete audiences and allows marketers to reach these audiences more effectively. With more than 3,200 clients and global footprint in more than 75 countries, comScore is delivering the future of measurement. For more information on comScore, please visit comscore.com.
Sponsored By